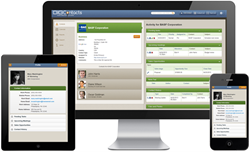 Duluth, GA (PRWEB) July 31, 2013
BigContacts today announced its new CRM reseller program as a part of a continuous effort to provide small businesses with an all-encompassing software solution for their business development, customer management, prospect relationship building and client retention.
BigContacts is a rapidly growing CRM software company, actively recruiting value-added resellers, distributors and system integrators. Its new reseller program is comprised of successful organizations that market, resell and implement BigContacts CRM system worldwide, offering an extremely competitive reseller margin of 37% and industry leading reseller support services.
For the past six years all of our new business has come directly through a single distribution channel our website. With the recent release of our next-generation platform, BigContacts 2.0, we are now expanding our distribution channels and are excited about the early success we have already had with our CRM reseller program, said Bob Walton, founder and CEO of BigContacts. This program not only gives us the ability to expand our reach, it also gives a variety of resellers the opportunity to offer their customers a great business tool and generate an attractive recurring revenue stream in the process.
BigContacts CRM reseller program is providing one of the highest margins in the industry, offering 37% of the total recurring subscription revenue for the life of the account. There are extra opportunities to sell add-on services to customers including consulting, implementation, training and support. Additionally, white labeling flexibility is available for resellers, with the option to choose the BigContacts brand or a personal brand and logo.
BigContacts reseller program is one of the most competitive on the market, having no upfront investment or setup fees and only requiring a minimum new business quota during the initial term of the reseller agreement. These minimums are in place to provide resellers with a fantastic initial training program and ongoing reseller support. The CRM reseller agreement initial term is for two years, generating a minimum of 100 new paid subscribers in the first year and an additional 100 in the second.
To learn more about the BigContacts CRM software reseller program visit http://www.bigcontacts.com/crm-resellers-overview/ or call 1-888-286-6578.
About BigContacts:
BigContacts is a software company that was founded in 2006 with a singular focus on delivering cost-effective and user-friendly CRM Software to help small businesses manage their prospect and customer relationships. BigContacts is now a leading web based CRM (Customer Relationship Management) software solution designed for small businesses that have outgrown basic solutions like Outlook, Excel or ACT but don't want the cost and complexity of CRM solutions like Salesforce.