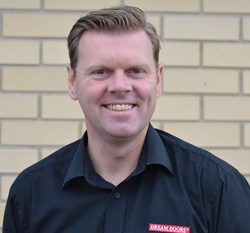 (PRWEB UK) 3 October 2013
Experienced kitchen salesman, Andy Hart, has taken on a new challenge. After spending six years heading up the sales for Dream Doors' company-owned outlet in Hampshire, he's now travelling the country supporting its franchisees. He joins established franchise managers, Bryn Jones and Deena Garside, who've collectively spent 15 years in-territory for the kitchen facelift retailer.
After 38 percent growth in 2012, and recording year-to-date sales up 30 percent, Dream Doors isn't short of customers. But with new showrooms opening every month, the brand's founder and managing director Troy Tappenden knew he needed to bolster his management team.
We've got 50 franchisees spread across the country, and perhaps half-a-dozen more ready to launch this year, Troy says. Hardly any of them have any kitchen-industry experience, and most haven't run a business before. They need support. And they definitely need it in sales.
We added to our marketing team earlier this year and are now generating half the franchisees' leads in house. So we've got that side of the business covered, he adds. But we're a sales-driven business. And bringing Andy over from my own showroom will help franchisees convert more of the leads we send them.
Andy began his career in kitchens with DIY giant B&Q, becoming the top sales consultant at both its Basingstoke and Havant stores. His average conversion rate at Dream Doors has been 50 percent, bringing in more than