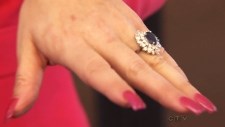 (PRWEB) September 30, 2013
Known for their high industry standards and their commitment to helping educate the customer, it was fitting that President and CEO of KMG Gold Recycling Michael Gupton was interviewed by CTV Winnipeg on September 20, 2013 due in part to his expertise in the gold buying industry.
The recent case of the Vancouver couple who broke off their engagement and were left with a bitter fight for a $ 16,000 engagement ring is just a larger scale example of the conundrum that many couples are faced with when an engagement or marriage ends. Gupton sees many customers, both male and female, who visit his Winnipeg location with unwanted jewellery from past relationships, looking to make some money from the no-longer needed rings. The reality is that most customers will only be able to get back a fraction of the original price of the ring, largely thanks to the extreme price markups employed by many jewelers. Luckily, KMG Gold is a BBB award-winning company that is known for offering customers the highest payout rates in the industry; higher than well-known jewellery stores are willing to pay for these old pieces of jewellery.
KMG Gold Recycling buys, recycles, and refines all precious metals including gold, silver, platinum and palladium. Michael Gupton started KMG Gold as an internet gold buyer in 2007 at http://www.kmggold.com, and opened his first location in Winnipeg in 2010 and has now expanded into the USA with a location in Grand Forks, ND.
For more information on KMG Gold Recycling and its commitment to help educate the consumer, please visit us online or call us toll free at 1-877-468-2220 or at 204-452-4653.
Media Contact: Michael Gupton, President of KMG Environmental Inc., 204-452-4653 or MGupton(at)kmggold(dot)com
KMG GOLD THE ORIGINAL GOLD BUYER