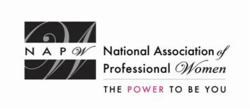 Garden City, NY (PRWEB) July 16, 2013
Members and guests of the NAPW San Diego, CA Local Chapter gathered on June 20th for a professional networking meeting at Crush Restaurant, 437 S. Highway 101, Suite 112, Solana Beach, CA.
During the networking event, a Vendor Showcase was held where the group of professional women shared information about their businesses and the products and services they offer.
San Diego Chapter President Rena Reyes welcomed the newest members and attendees also discussed a number of charities they could support as a Chapter.
The networking energy in the room was very rich and the meeting went really well. Everyone brought something complementary to each others goals, said Chapter President Rena Reyes. This was exactly what I was planning for when deciding to become President. It was an honor to have so many successfully committed women present.
One by one, members introduced themselves and showcased their businesses.
In an effort to realize the San Diego Chapters goal of supporting a charity, a number of women brought certain nonprofit organizations to the attention of members and guests.
The professional women of the San Diego Chapter who attended the meeting were quite interesting. I had the distinguished pleasure of meeting some new members, said President Rena Reyes.
During the Vendor Showcase, Chapter member Uma Lakshman spoke about her business idea and asked for help and advice with creating a business and marketing plan.
Member Juldia Bailey told attendees that she has launched her business, a sandwich restaurant featuring hoagies and Philly sandwiches. She is also looking to develop a nonprofit organization for music for her granddaughter in the city of San Jacinto.
Member Manda Wallbridges company Photocharity/savehomelessyouth.org, targets the runaway children of San Diego. She brought the idea of the Chapter adopting this as a charity program to look into due to the fact that theres a limited amount of beds available for the children. The nonprofits goal is to possibly open up additional locations to ensure every runaway child has a place to lay their heads.
Member Carrie Beinert owns a day spa. She offered the group complementary passes and invited all to stay connected.
Chapter member Pam McCormick talked about how she successfully bounced back from the real estate crash of 2008 and is now successfully thriving as a professional business woman.
Guest member Marie Harper is looking to break into a nonprofit disability teaching market.
The Chapter President then spoke about a charitable endeavor she hopes the San Diego Chapter will support.
As promised, I brought back a lucrative plan seeking the San Diego Chapters support to fulfill philanthropy work as volunteers building a church in Pineto, Italy, said Chapter President Rena Reyes. The ladies present were excited about being charitable in an Italy adventure!
To close the meeting, President Reyes, who owns a Coaching business, presented each member with two hours of free business coaching by appointment.
The next San Diego Chapter event will be held at Crush Restaurant on July 11th at 12:30pm.
Members at the June meeting included: Juldia K Bailey, Dorothea Beaubien, Carrie Beinert, Uma Lakshman, Manda Wallbridge Pam McCormick and Marie Harper.
The National Association of Professional Women (NAPW) is the largest and most recognized network of female professionals. NAPW provides a forum where women can interact, exchange ideas, educate, network, and empower. NAPW Local Chapters allow members to maximize their experience through meetings, networking opportunities, and professional events.
For additional information regarding the NAPW San Diego, CA Local Chapter and/or NAPW, please visit http://www.napw.com.
Follow NAPW on Facebook and Twitter.