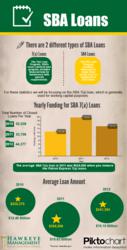 Blackwood, NJ (PRWEB) July 12, 2013
One of the most commonly asked questions is what are the most common mistakes that small business owners make when looking for financing?
According to statistics compiled by Clate Mask about small business owners, which he talked about in detail for Small Business Trends:
83 percent are solopreneurs (1-2 people) and bring in less than $ 100,000 a year in annual revenue.
6.1 percent make between $ 100,000 – $ 300,000 in annual revenue.
6.8 percent make between $ 300,000 – $ 1 million in annual revenue.
So for these amazing and hard working small business owners, which make up over 95 percent of all the small business owners in the U.S., what are the two most common financing mistakes they make?
Mistake #1 Not Knowing Your Business Financing Options
This is where it all starts. A small business owner cant know what to do or the best course of action unless the owner knows what the options are. Most small business owners who havent been in business for several years think that there are options that simply dont exist. Its one of the reasons Hawkeye Management put together the free eBook on the 16 Best & Most Common Business Financing Options for Your Small Business.
Mistake #2 Not Treating Your Credit as an Asset
Two credit-related reasons dominate this discussion.
a) Late payment or late payments on your credit